Wombwalks II Medwyn's Birthday May 14, 2018
Nane's wombwalk for Medwyn
May 27 at 10 am
EMBODYING RELEASE
Went again to labyrinth at St Paul's Church downtown Vancouver. It's a few days now past Medwyn's birth-day, as I have been unable to make time until now - my working life is overfull as before. I carry concerns with work into my labyrinth walk with me.
I sat on a cushion to meditate, to still my body-mind, which feels good. My concerns remain, as well as ideas for a new birth-based research project, so I know I will walk with these and Medywn - birthing and birth-days are the heart of the womb-like labyrinth her-self!
As I begin to walk, thinking of my concerns and how to support those around me, I felt the mantra,"I have gratitude for the gift of giving up grudges and grievances." And I do have great gratitude in this regard in my life. I carry few (if any) grudges towards those around me. This thing of holding grudges can be a way of being for many, and a source of conflict and strife. Yet the practice of giving up grudges is so liberating. It doesn't mean there are not challenges to settle and work through with others, but one does so without belittling or holding one's opponent in negative light - so I hope for all to find the way through current challenges in as open, self-reflective, and loving ways as possible.
The next mantra that came was, "Hold mothers sacred."
Hold mothers sacred.
Hold others sacred.
Hold m/others sacred.
At the centre I sat cross-legged, and went into the MM pose, going into myself and the earth with deep releasing breath. After many minutes of the pose, loosing myself into this as I do, so that I am of the earth, and of breath, I began to yawn and yawn and yawn. My nervous system releasing all physical tension, just being a body on earth, breathing deeply and well, embodying release.
I walked out of the centre with such slow steps, as I am still in deep earth-trance, just a body, heavy and slow.
I felt MM on the path in and with me, I felt slow and steady.
Then the next phrase came, "Being in the midst of the struggles of others."
Much like Cindy Lou's birthday laby walk, this walk has a theme of being/holding one's core self, clearing and releasing, being oneself in the struggles of others, holding oneself well, being of service.
Then as I neared the end of my walk I felt body tingles and an open feeling of lightness and joy - I laughed to myself.
Blessed be Medwyn, on this birth-day walk, celebration and release.
Barbara's labyrinth making and walking for Medwyn
May 14 at 4pm
A gift for Medwyn on the anniversary day of her birth. Walking the path of the prairie hare in union with the labyrinth at a newly discovered labyrinth site on the lands of St. Mary's cathedral with Mary's grotto and downtown Calgary as the backdrop.
Words that came to me in the centre of the labyrinth:
free free free free free free
the gift is free
the gift is free
the gift is free
the gift is free
to give and receive
the gift is free
the gift is free
the gift is free
the gift is free
and it will continue long after
long after the body is gone
long after
long after
oh the gift
the gift
the gift
the gift
the gift
may the gift return in full force
may the gift return in full force
to re-gift and re-gift
to re-gift and re-gift
to re-gift and re-gift
to re-gift and re-gift
Thank you Mary
Thank you gift
4 minute video of the gift for Medwyn
Medwyn's Labyrinth making and walking 11 am May 14, 2018
The seventy-third anniversary of my birth dawned clear and warm in Victoria, BC. The temperature rose as the day progressed, offering up one of those surprise early summer days that feel so precious, for their unexpected gift of warmth and light. At low tide I made my way to Willows Beach in the Oak Bay area of Victoria, a long narrow beach with generous sandy areas, bleached driftwood logs to sit on, and a wide view of the Olympic Mountains on the other side of Juan de Fuca strait. I located a good labyrinth drawing stick and began walking along the beach passing young mothers with their children enjoying one of the first beach days of their summer, the inevitable sun worshippers working on their tans, and long stretches of empty sand offering me some choices for my labyrinth palette.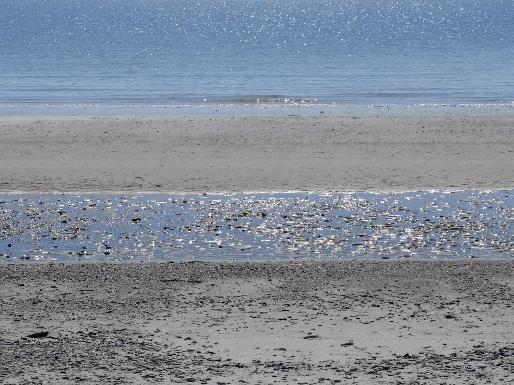 I selected a spot with a pebbled area above the tide line and a wide sand bar for my drawing and sat down to connect with the space. As I rose to begin my mark making a small school bus drew up on the road behind me and out tumbled an assortment of differently abled youngsters bounding with enthusiasm as they headed for the water. Their bright energy rang through the quiet air as their feet splashed in the shallows of the incoming tide. Paying no attention to me at all, they explored the space around them until their mentors gathered them together into the bus and away they went.
Pshshshshsh the stick wove its way from point to point as my labyrinth formed itself on the sandy surface. Weaving my intention into the markings my breath carrying my thought down the stick and into the earth, I wished for a year of friendship and freedom with/in this new home place, feeling gratitude for the sand and the ocean, the sun and the breeze, blessing this celebration ritual of my birth.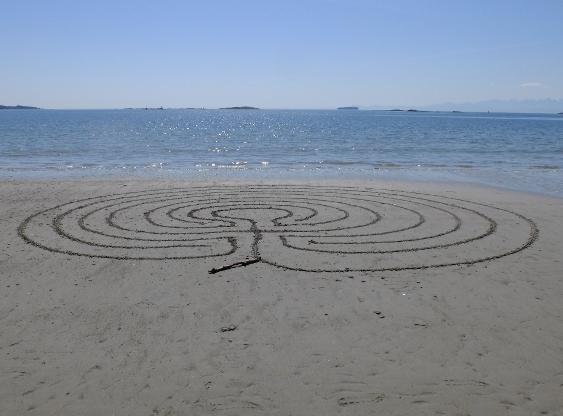 Heron flies low skimming mere inches above water's surface strong wings lifting, long legs stretching down to land with ease settling into stillness. Canada geese stretching across the bay heading for their companions those who arrived before to take up their accustomed spot beside the rocky outcropping at the far end of the beach. Gulls wheel and cry, calling to each other across the warm breezes, then suddenly the peep peep peep of oyster catchers, bright red beaks black bodies swirl into formation and disappear.
Walking in the borderspace between land and sea, sensing the grains of sand beneath my feet, the heat of the sun on my bare legs, I fall into a slow rhythm with each step taking me further along the pathway in towards the centre of my labyrinthine wombspace. I pick up three stones along the path, arranging them into a modest altar offering in the centre circle. Turning slowly greeting each of the four directions, the arc of blue sky above, the deep moist earth below, my arms float wide reaching into an embrace of the seen and unseen all around me, as my heart opens to the wonder and beauty of being in this sacred ancient container of my own making.
Joy and gratitude flows in as my feet lead me lightly and swiftly back along the path to the beginning where I bow in reverence to beings whose presence so strongly entered my walking. I returned to my sitting place as a young woman with an old dog walked along the water's edge past my labyrinth.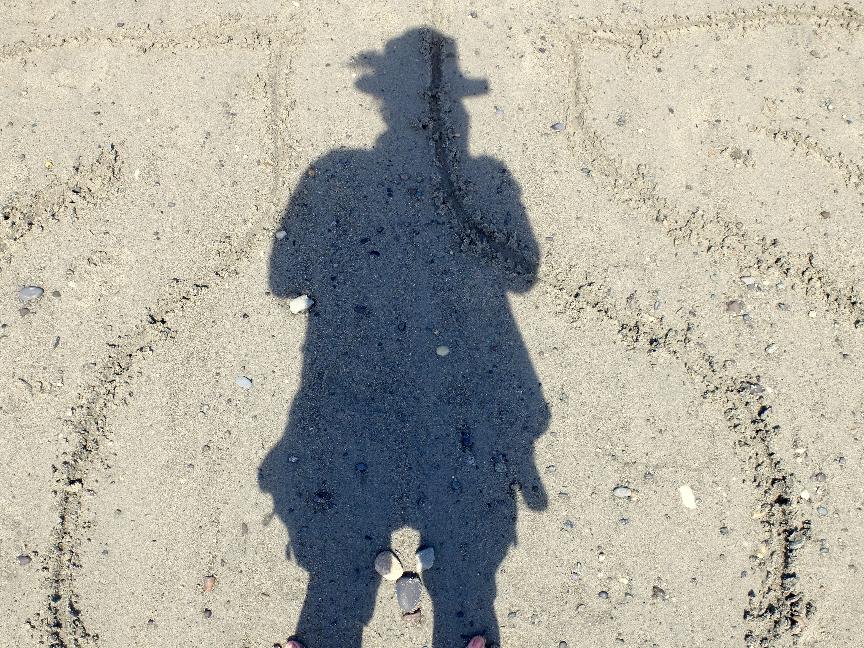 Old dog limping
beckoned by the water
gait quickening
paws immersed in ocean's healing salve.
Ears soft
tail up
trotting now
almost running in joy
limbering old joints
soothing aching limbs
re-membering youth
in playful spurts of energy
Old dog young again
loving the woman
at his side
faithful their friendship
deep in memories of sharing
walks, beaches, woods, sand, stone.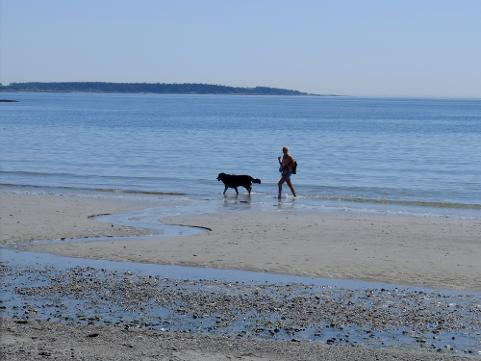 This website is copyright of Gestare Art Collective, 2018. All rights reserved.