Our artworkings are visual, textural, vocal, performative, moving, ephemeral, earth-related and time/space based. Living in different geographic locations in North America we share our individual and collective art practices and develop collaborative projects through digital on-line communication at a distance and at residencies. The source of our artistic collaborations comes from our shared engagement with the Divine Feminine and the Earth, gestated in the labyrinthine container of wombspace.
The Gestare Art Collective was officially formed in 2009 by co-founders Barbara Bickel, Medwyn McConachy, Nané Ariadne Jordan and Wende Bartley.

The collective evolved within a framework of women's spirituality with three of the four founding members having shared experience on the planning team for the annual Vancouver-based Women's Spirituality Celebration (WSC). We began to collaborate through labyrinth walking and making after a labyrinth walking workshop led by Nané at the 2007 WSC; later taking up Wende's practice of sounding a spontaneous improvisation of intuitive sounding and deep listening.

Sharing creative and ritual space at artist residencies at Artscape Gibraltar Point led to the formation of the collective in 2009. Wende subsequently left the Collective to focus on her individual music composition and performance. http://wendalyn.ca/
In the summer of 2012 Cindy Lou Griffith and Ingred Rose Joined the collective. Cindy Lou brought her documentary film-making, and visual art practice into the group, and Ingred enriched our multidisciplinary artmaking collaborations with her moving and lyric writing practice.
The fall of 2016 brought more changes as after five years of connection and collaboration in the visual arts Gestare released Ingred to dive into her long anticipated memoir writing process.
As of December 2017 Gestare comprises four members Barbara Bickel, Cindy-Lou Griffith, Nané Ariadne Jordan and Medwyn McConachy whose profiles can be found under our Artists tab.
In September of 2021 the collective ritually untied its co-mothering threads with Gestare. Releasing each collective artist from the whole to continue the path we were mothered into by the larger Gestare movement in as yet unknown ways.
This website will continue to hold the archived inquiry, practices and teachings of the Gestare Art Collective and will link new sites that may emerge in the future connected to Gestare Art Teachings and Practices.
RELEASING from Ingred
Collaborative practice embraces, holds and sometimes is called to release co-creators from its midst. Gestare member Ingred Rose is diving into her memoir writing passion with the gestation of a new manuscript calling for intensive work towards completion. On Friday November 4 Gestare gathered in the realm of Skype for Ingred's releasing. She moves on with these words:
sad to say farewell to gestare. five years connection, can barely believe it! i've been a longtime collaborator throughout my life both as writer and teacher. this was an opportunity to explore my relationship to visual arts as well as a dip into academic inquiry. best of all our close-to-the-ground engagement with sounding together, napping & dreaming together, discovering what the phases of the moon revealed to usthrough ma positions. no! best of all, the monthly check-ins with these four exceptional women, mystics, artists to dream of other possibilities of expression and engagement in a world that lacks women's wisdom and clarity. i'll miss you all and am exceedingly grateful for the time and space we created together. thank you! ingred

nov 7 2016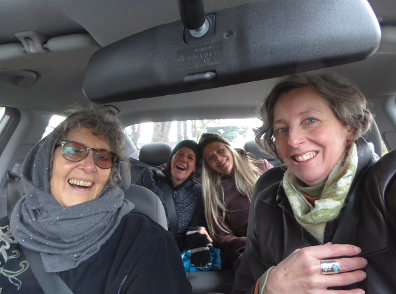 Gestare Gratitude practice. Traveling home from the Ross Bay Cemetery and our goddess figurine communal burial. In the same cemetery where Emily Carr is buried. February 9, 2020.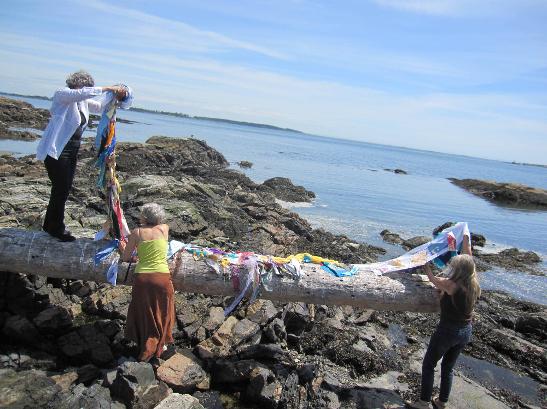 The Gestare Crew rolling up the Dream Scroll after airing it on the boom escaped log in the heat of the sun at Cattle Point beach in Victoria British Columbia in June 2013.

photograph by Nané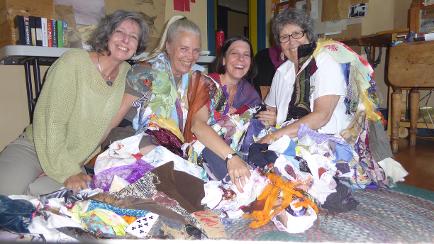 Medwyn, Nané, Cindy Lou, & Barbara August 13, 2017 day retreat.

This website is copyright of Gestare Art Collective, 2020. All rights reserved.