Our artworkings are visual, textural, vocal, performative, moving, ephemeral, earth-related and time/space based.

Living in different geographic locations in North America we share our individual

and collective art practices and develop collaborative projects through digital on-line communication at a distance and at residencies.

The source of our artistic collaborations comes from our shared engagement with the Divine Feminine and the Earth, gestated in the labyrinthine container of wombspace.
The Gestare Art Collective was officially formed
in 2009 by co-founders Barbara Bickel, Medwyn McConachy, Nané Ariadne Jordan and Wende Bartley.
The collective evolved within a framework of women's spirituality with three of the four founding members having shared experience on the planning team for the annual Vancouver-based Women's Spirituality Celebration (WSC). We began to collaborate through labyrinth walking and making after a labyrinth walking workshop led by Nané at the 2007 WSC; later taking up Wende's practice of sounding a spontaneous improvisation of intuitive sounding and deep listening.
Sharing creative and ritual space at artist residencies at Artscape Gibraltar Point led to the formation of the collective in 2009. Wende subsequently left the Collective to focus on her individual music composition and performance. Wendalyn Toronto, Canada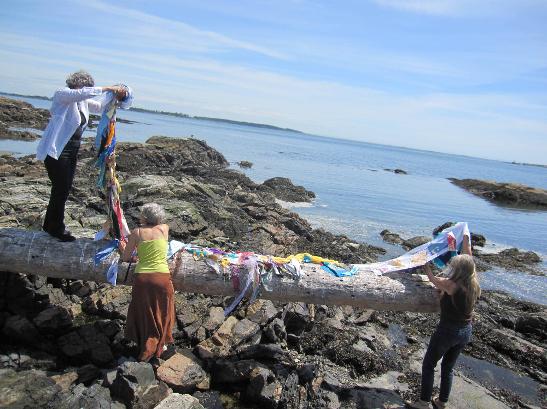 The Gestare Crew rolling up the Dream Scroll after airing it on the boom escaped log in the heat of the sun at Cattle Point beach in Victoria British Columbia in June 2013.

photograph by Nané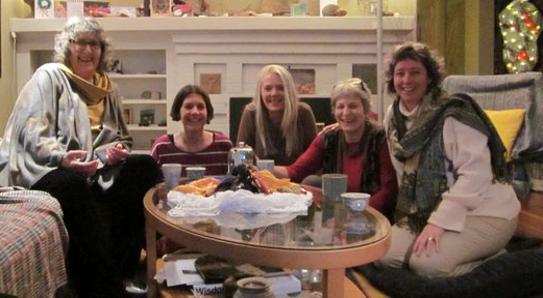 Medwyn, Nané, Cindy Lou, Ingrid & Barbara December 2012 day retreat.


In the summer of 2012 Cindy Lou Griffith and Ingred Rose Joined the collective.

This website is copyright of Gestare Art Collective, 2017. All rights reserved.