Welcome to the on-line archival presence of Gestare Art Collective. These pages offer a portal for you to enter into the matrixial borderspace(s)* of our collaborative and creative art processes that took place between 2009 to 2021.
Gestare is Latin for the verb "to carry" in the womb. As women committed to living as process artists in relationship with each other, the earth, cosmos and all its inhabitants, we honour and practice gestation as an artful form of inquiry and pedagogy.
We gift the Gestare Teachings and Practices found within these pages with the desire that they be passed forward, re-conceived and gestated by others for the purpose of creative birthing, care, healing and restored connections with all beings; humans and more-than-humans on this Earth.
On September 12th 2021 the Gestare Art Collective ritually released the gifts of Gestare to the larger world and opened the circle of collective artists to the movement of Gestare. We recognize the movement of Gestare, that has been co-birthed over the years, as greater than all of us as individuals.
We welcome inquiries about the Gestare Art Teachings and Practices as they are collective artworkings, teachings and practices that we noweach carry with us as individual artists.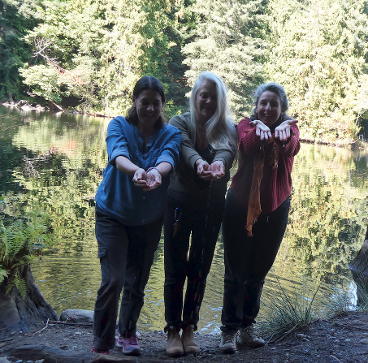 Offering the Gestare Water Blessing to the world at the close of the Gestare Art Collective releasing/opening ritual.

photograph by Barbara. September 2021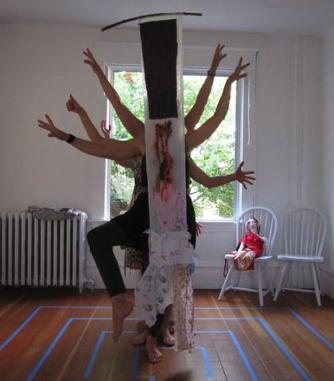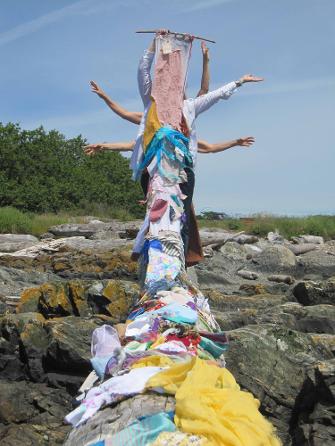 Conference Presentation Videos

Nap-Ins have been taking place nationally and internationally Rome; Alexandria, Egypt; San Juan, Puerto Rico; Boon, North Carolina; San Francisco, CA; Elgin, Illinois; Carbondale Il, USA; St. Catherines, Ontario; Toronto, ON; Winnipeg, Manitoba; Vancouver, British Columbia; Courtenay, BC; Calgary, Alberta
Video presentation given at the Arab Middleast Art Education Association (AMSEA) in spring of 2017.
View 30 minute video
presentation by Barbara Bickel
Video of the presentation & Dream Scroll happening

(2020). Gestare Art Collective: With Nané Jordan & Medwyn McConachy. In B. Bickel Art, Ritual & Trance Inquiry: Arational Learning in an Irrational World. Palgrave MacMillan.

(2019). MA Poses: A New Material Feminist Art Practice. Bickel, B., Jordan, N., McConachy, M., Griffith, Rose, I., C.L. In P. Sameshima, B, White & A. Sinner (Eds.). Ma: Materiality in Teaching and Learning. NY, NY: Peter Lang. 245-259.
(2018). Communal Dreaming: Enlarging the Space of the Possible Through a Postmodern Curriculum of Nap-Ins. Bickel, B., Jordan, N., Rose, I., McConachy, M., Griffith, C.L.In M. Garbutt & N. Roenpagel (Eds.), The Mindful Eye: Contemplative Pedagogies in Visual Arts Education. Transformative pedagogies I the visual domain: Book No. 3. Champaign, IL: Common Ground Research Networks.
(2015) Wombwalks: Connecting With the m/Other
Book chapter in Creating together: Participatory, community-based and collaborative arts practices across Canada.
Barbara Bickel, Nané Jordan & Medwyn McConachy
Co-editors Diane Conrad and Anita Sinner.
Wilfrid Laurier University Press. Waterloo, ON. Canada.

Video presentation for book launch April 9, 2015

Pagan, Mother, Goddess. Edited book by Nané Jordan. Demetre Press

Art, Ritual & Trance Inquiry: Arational Learning in an Irrational World. Book by Barbara Bickel. Palgrave MacMillan

Placenta Wit: Mother Stories, Rituals, and Research. Edited book by Nané Jordan. Demeter Press.

To order on-line at Demeter Press

Nané's art and Gestare have been blogged about at placentabenefits.info
The first and second iteration of the spontaneous Dakini* that emerged from the spirits of the women as we unfurled our dreamscroll of Nap-In dreams; first in an art gallery and then onto a stray boom log at the beach in Victoria, British Columbia. Each time evoking the untamed female freedom of this traditional Tibetan Buddhist yogini form.
(Like a trickster or the Fool in a Tarot deck, the dakini releases blockages in the energy field and melts frozen patterns, so that the door of the mind is suddenly ajar and something new can enter. Dakinis are often connected to the phenomena of synchronicity and inexplicable coincidences of fate.
* http://www.matrifocus.com/BEL09/noble.htm
*Dakini is a Tibetan word meaning "sky goer" or "sky-walking female." The Double Goddess - Vicki Noble photograph by Barbara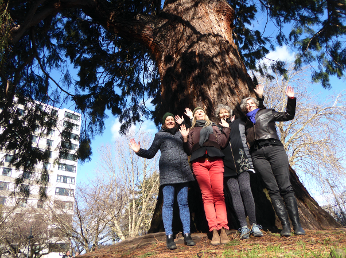 MA Blessing Pose with Gestare Art Collective and the mother cedar tree in James Bay, Victoria. Feb. 2020
photograph by Barbara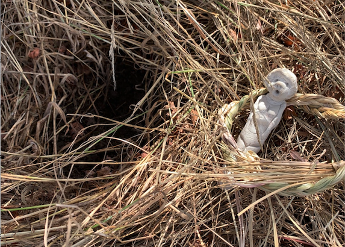 Singing clay goddess figurine with sweetgrass burial at releasing /
opening ritual of the collective. Sept. 12, 2021 photography by Medwyn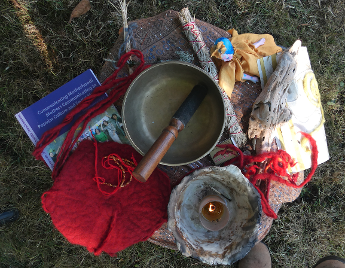 Gestare altar from closing/opening ritual of the collective. Sept. 12,
2021
photograph by Barbara
Contact us

gestareartcollective@gmail.com
This website is copyright of Gestare Art Collective, 2021. All rights reserved.