Welcome

to the on-line presence of Gestare Art Collective. These pages offer a portal for you to enter into the matrixial borderspace(s)* of our collaborative and creative art processes.


Gestare is Latin for the verb "to carry" in the womb. As women committed to living as process artists in relationship with each other, the earth, cosmos and all its inhabitants, we honour and practice gestation as an artful form of inquiry and pedagogy.




*

Ettinger, Bracha L. (2006). 'Matrixial Trans-subjectivity' in

Theory, Culture & Society

23(2-3): 218-222

.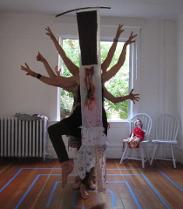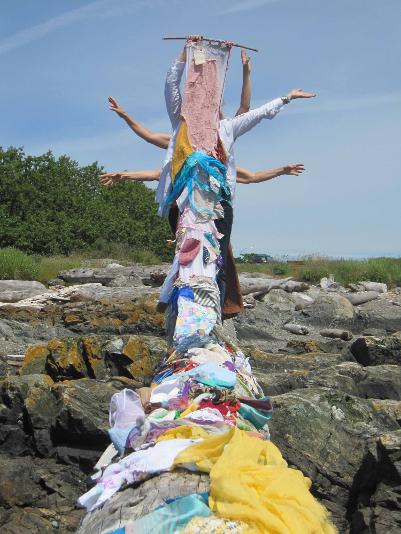 Feminist Art Conference, Group exhibition, OCAD University, Toronto ON. Canada. Sept 13-27, 2015. [interactive installation of the Dream Scroll]
Co-Writing Recently Published

Wombwalks: Connecting with the m/Other
Book chapter in Creating together: Participatory, community-based and collaborative arts practices across Canada.
Barbara Bickel, Nané Jordan & Medwyn McConachy
Co-editors Diane Conrad and Anita Sinner.
Wilfrid Laurier University Press. Waterloo, ON. Canada.

Video presentation for book launch April 9, 2015

Call for Book Chapters in Placenta Wit: Mother Stories, Rituals, and Research. Edited by Nané Jordan. Demeter Press.
Co-Residencies

See our Co-Residency

page to find out more about all of our past Co-Residencies.
Cindy Lou at our last Gestare Retreat (and our last one at Ingrid's William Street home) with her paintings.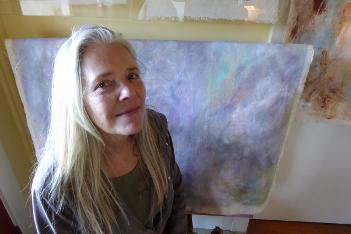 A second iteration of the spontaneous Dakini* emerged from the spirits of the women as we unfurled our dreamscroll of Nap-In dreams onto a stray boom log at the beach in Victoria, British Columbia, evoking the untamed female freedom of this traditional Tibetan Buddhist yogini form.
(Like a trickster or the Fool in a Tarot deck, the dakini releases blockages in the energy field and melts frozen patters, so that the door of the mind is suddenly ajar and something new can enter. Dakinis are often connected to the phenomena of synchronicity and inexplicable coincidences of fate.
http://www.matrifocus.com/BEL09/noble.htm
*Dakini is a Tibetan word meaning "sky goer" or "sky-walking female"..
The Double Goddess - Vicki Noble photograph by Barbara
Nané and Barbara in Paris, France (spring 2015) studying at the
Cité Universitaire Internationale and attended the Partie de
Lectures avec Héléne Cixous, Journé d'études internationale at
the Mainson H. Heine.

We engaged a daily practice of maternal goddess figures from
cross cultural neolithic imagery based on the work of Annine van
der Meer. Below is a video still from our Mother of the plants
pose in the universitaire garden.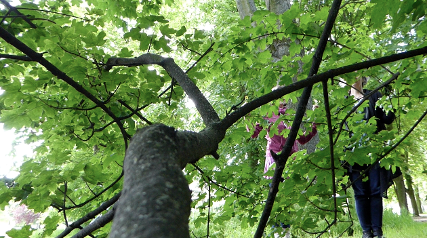 Nané and Barbara facilitated a Nap-In in Rome at t
he
Motherhood Initiative for Research and Community Involvement (MIRCI) Conference. Theme: Maternal Subjectivites: Psychology/Psychoanalysis, Literature, Culture and the Arts. Casa Internazionale delle donne, Rome, Italy. April 23 – 24, 2015.

20 women participated and 7 were part of releasing the dreams at the Tibre River later that day.

A participant Michelle Tarnopolsky blogged about her experience on her mapleleafmama blog.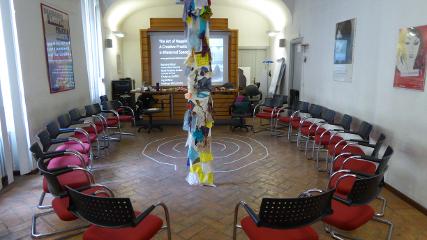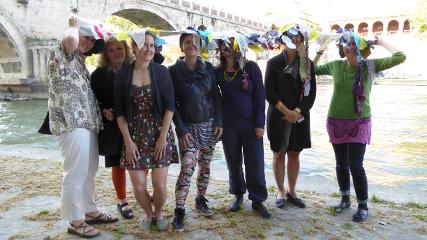 Ingred was on a pilgrimage to Berlin and spent time at the memorial to the murdered Jews. See her ancestral journey.
Contact us

gestareartcollective@gmail.com
This website is copyright of Gestare Art Collective, 2016. All rights reserved.