Dark Moon MA Pose-6
'uplifted arms' invocation
This January 2017 dark moon occurs one week after the transition of power in the US Presidency, a dark time indeed when we will need the divine intermediating powers of this Great Goddess of Crete from her cave temple in Archanes. May she bring strength and compassion to us all as we await with apprehension the unfolding of this new era.
The pose is also called the 'hurray-pose'. This pose indicates the triumphal witnessing and ecstatic seeing of the divine.
May the divine wisdom of this Great Goddess be with us.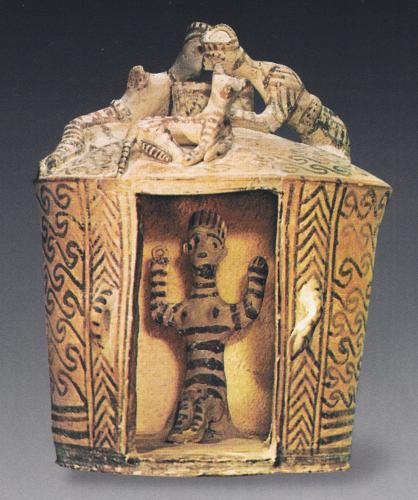 Nane's MA pose walk - Jan 29, 2017
Was back at the labyrinth today for this walk and pose - at St Paul's - the sanctuary, labyrinth mother playing Hildegard's chants and music...ahhhhhhhh. For me, as usual at the labyrinth, is my need for inner space, inner peace, or at least time to discern. Peace is not always possible, but knowing is, seeking my-self, coming back into my body and "where am I?" This is so often my question, as well as "how am I?" - I walk in recent years with such grounded sense of USE of this labyrinth, SHE is such an old, ancient friend -a MA Mother herself, this walking path of womb-wisdom, an earth-mother being.
Walking in on the path, I felt very, very heavy in body, so heavy with my new work and the suffering carried by those I am working with. I wrapped my arms around my body, just holding myself together as I walked in on the path. I couldn't imagine holding my arms up and open into this adoration MA pose. I felt I had to contain and hold myself together to even be able to walk on this path, so heavy is it. Just hold and holding my body, wrapping my arms to hold going inwards. Just tending my body and the heavy feelings, letting it all be there.
Then coming into the centre I let myself open into the MA pose. Arms raising, palms open and standing at the centre of the labyrinth. Something immediately took me over. Tingles up and down my body, tingles, tingles. Spirit is here, life is here, I am, I am here. And these words came into my mind:
"I receive all"
(I receive all suffering)
"I am love"
(you are love, we are all love)
This was a new feeling in this MA pose from my previous workings with it, in France at Chartes, and last year here at home. I had felt this pose as an adoration of the holy, of the sacred, of MA herself - greeting and invitation to the universe, yet still a deity to adore or be in relationship with, opening the self as vessel. This is indeed one of my favourite MA poses, this adoration pose. I find it to be a direct conduit or channel for opening to the divine in world, self, and all.
Today, I had what I can only describe as a distinctly Christian moment. I came into direct contact with Jesus and his teachings. I felt an embodied truth of "his" knowing, which is also MA's knowing -as I held my hands and arms open to the all - I became and understood how Jesus had invited all people to him, all suffering to him. He had accepted and RECEIVED all. All of this was his holy, receiving and accepting the suffering was to love. To be love.
I understood this instantaneously, without thought. But I then lowered my hands in deference, as another person walked into the centre of the labyrinth, and these feelings were very strong to hold or project over this person. Even as I understood that this was a blessing of sorts moving through me and out to others. I moved slightly away to give him space.
Then, as I left the centre of the labyrinth, I stood still once more in the adoration MA pose. I had my eyes open and I was facing the big mirrors on the back wall - I noticed that my hands had two dark holes in the centre of each palm. I kept looking at this, looking. Oddly, this was indeed stigmata - I kept looking at this image or reflection on my hands, as there they were. The stigmata were there, no doubt - another communication or knowing invoked by the pose and this day of Lunar New Year - I am pierced with the suffering of all, I am (and all are) love.
Then, walking out with open feelings, yet still slow and heavy in body, I was pondering needs. My own and others - how to support myself and others, this came:
Be a vessel for the truth.
The truth will set you free.
Barbara MA pose - Jan 29, 2017
From a MA standpoint
Clearing the path
Clearing the path to the labyrinth
Clearing the fallen branches after the storm
Clearing the path
Clearing the path
Clearing the path for a channel
A channel from other sources
Sources of love
Sources of compassion
Sources of care
Sources of repair
Opening the channel

Opening the channel in this ancient Egyptian pose of the female open and receiving
Receiving through the palms of her hands
Open to the power beyond the human realm
Power beyond from the divine
The divine source

Cautiousness and fear can step away
Step away and allow
Allow the connection
The energetic frequencies to move into the bloodstream
Into the bloodstream of this human
To circulate
Re-circulate with the wisdom
With the fearless knowledge
The fearless knowing
Recirculate the ancestral knowledge of those that have survived the storms
Those beings human and non-human and other than human have all survived
And still thrive and hold
Hold and wit(h)ness
Hold and wit(h)ness

Predators, predators are part of the whole
And we have the knowledge the wisdom to counter
Counter the predator's attack and continue
Continue towards what is good
What is true
And what is beautiful with love
Unconditional love at the base is holding holding
Beholding ALL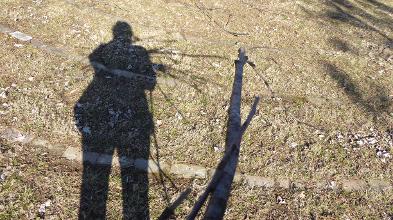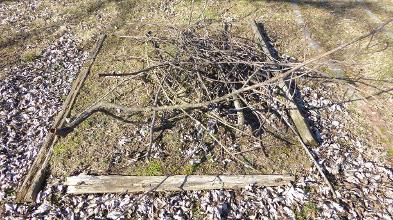 Medwyn MA pose - January 28, 2017

Travelling from my Vancouver Island home to the mainland carrying with me the MA uplifted arms pose, I am reminded of the first nations tradition of giving thanks that I hear spoken of as 'holding my hands up'. My gratitude for these times I travel across the Georgia Strait gazing out at the sea and landscapes passing by, arises in me every time I take the ferry.

The new moon of January 26 and the celebration of Imbolc on February 1 clustered in my calendar offering me so much opportunity for gratitude. Tradition prevailed as I journeyed to join a group of women who have been gathering together at this time in the White Rock home of birthday celebrant Huguette. Our tradition is simply to show up with whatever we wish to bring for a weekend together. It was a time for ritual, sharing, giving, receiving with a circle of crones whose lives hold a simple resonant thread of attention to the goddess mother our earth. Some are active in organic farming, some in planning and guiding not for profit organizations as they struggle with the challenges of today's tight relentless political weight. Others are front line in the movement to stop the pipelines, others with refugee welcoming, each woman in her way in her power dedicated, committed, working for the turning we call forth for our world. The common thread among us is that we have been doing this work for years and still we must work if we are to prevail against those powers destroying all that we care for in this sacred planet we call home.
The labyrinth brought us into contemplative time, walking, sitting, sewing together as we search for the words to capture our pledge to Bridgid whose feast at Imbolc opens a time for casting off, lifting up and moving forward. Each year we invite this ancient goddess into our circle she whose healing wells and everlasting flame have been tended in Ireland over centuries asking for her wisdom and healing as we turn the wheel from winter towards spring.
Walking on White Rock beach another facet of the tradition, my arms uplifted again in gratitude for the water, the mountains, the trees, the rocks, the ever present seabirds and even the train. As a young girl in England travel by train always heralded adventure of my own away from home. Trains still stir in me that joy as they come rumbling along the track carrying goods from there to here and on again. I saw in this a metaphor of our group of crones, walking more slowly than before, carrying our earthly presence along the unseen tracks of our life's wayfinding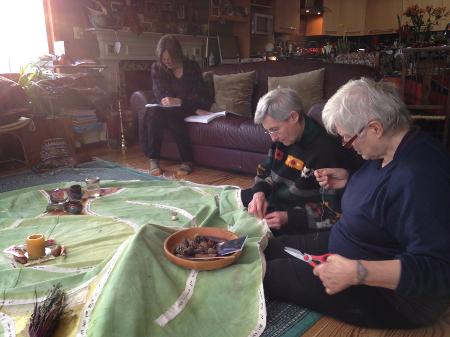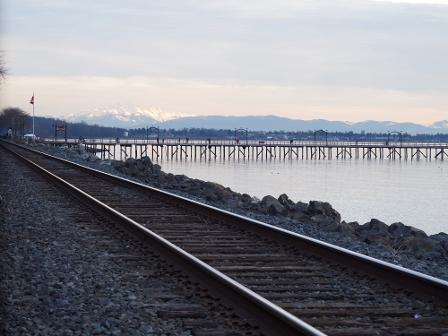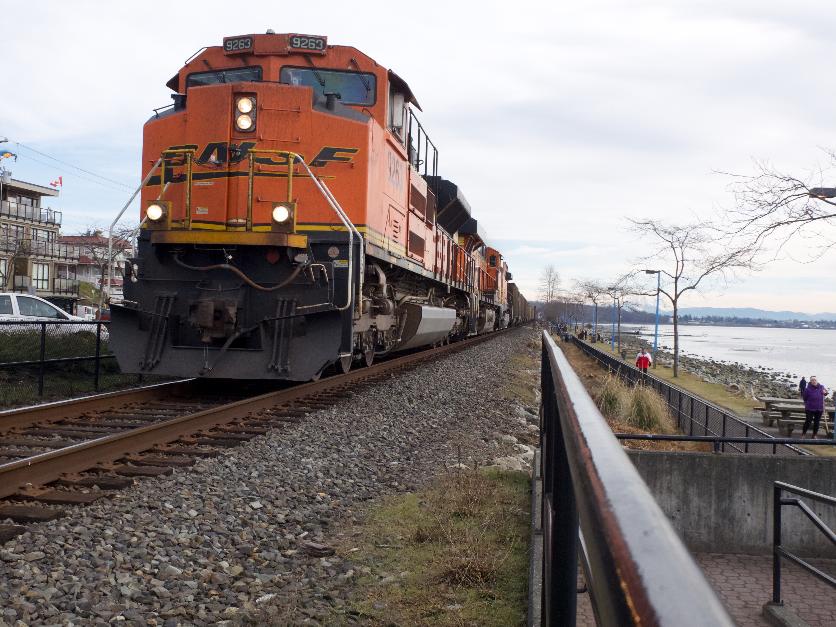 This website is copyright of Gestare Art Collective, 2018. All rights reserved.