Dark Moon MA walking
'mother of animals and plants'
We move into this pose on the last dark moon of a year many are saying has been dark, difficult full of loss. We are all grieving, waiting for the return of the light, anticipating the lengthening days of spring when this young goddess will step into her fullness. Honoring her at this time of rest and regeneration offers us a portal to hope, the hope of new life, new light, new growth.
Young Goddess from Ugarit in Canaan (modern Lebanon) holding three ears of corn and feeding two wild goats or ibexes (1250 BC). The ear of corn is a symbol of initiation. She symbolizes the tree of life; the fruits are giving insight in the inner reality of the soul.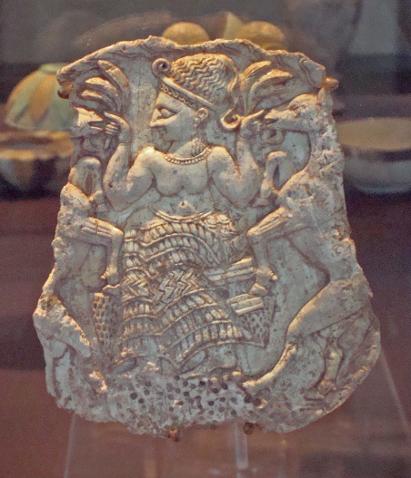 Cindy Lou & Barbara MA pose and walk - Jan. 6, 2017
On a crisp, clear and cold evening Cindy Lou and I walk along the Fraser River at sunset. We stop at the river bank and stand side by side holding the small oak tree branches gathered from Cindy Lou's front yard. We sound sending our voices out to the river as the sun sets.
Fraser River MA Pose Walk video
Vocals and arrangement by Cindy Lou Griffith & Barbara Bickel
Video editing by Barbara Bickel
6 minutes

Nane's MA pose and walk - Jan 1, 2017
I visited and walked the labyrinth at St Paul on New Year's day. Many other people there, this felt like the contemplative place I needed to be for this renewal of the year. As I began my walk tears started to flow - unexpectedly really, just flowing and flowing, I would stop at the trancepts of the labyrinth turns to cry some more, regain myself, then stop and cry again. A musician was playing soulful harmonium song and singing chants, which held me in my tears, so that I released what was yet again a kind of mother-grief, and more. Grief - i didn't know i was holding until that moment - I had just the day before been writing/editing and finally handed in a long book chapter about my 2015 trip to Belfast (from Paris), and the conditions of this trip "home" made through and despite of my mother/family, who could not support my need to visit our mother-land. So I had gone alone, without being able to visit our family there. Yet it had been a nourishing and even joyful experience to be there, but somehow writing it took me into more grief of my mother-losses, and the trauma I have been dealing with. I wonder if I can go forward with this chapter itself, do i want this story public and can I sit in its truth even more? This had been an ongoing question and tension, how much to go into the mother-story and how much to back off. There is no easy answer. Will the academics find it too personal, too focused on the topic of mothering, and ask what it has to do with arts-based research and art education yet again?
This MA poses work recovers and re-mothers, so that it can be both joyful to restore ourselves, yet painful to review and feel the losses of empowered/un-empowered mothering over so many generations through patriarchy. As I got to the centre of the labyrinth, I took a small branch of salal from the flower bunch set there lovingly by those people that tend the labyrinths so well and so carefully for all of us who walk it. I felt so much gratitude for these priestesses, who have been here every time I walk this labyrinth, sitting quietly at the door, resting in their sprit of love and care, holding space for contemplation and transformation.
I held this salal as Mother of the plants and animals - brushing and smudging my body and limbs with its verdant green. I felt calm, and a peaceful sense of being held and holding others at the centre. Walking back out was a pleasure of time, space and rest. I spent time sitting in quiet contemplation at the side of the labyrinth.
Barbara's Ma Pose & Walk - Dec. 29, 2016

Sitting at the base of a vulva tree, I hold onto vines attached to the earth.
One small green leaf vine in each hand.
A decaying log and deer droppings in front of me.
I watch acrobatic squirrels leap and run along the bare branches in the tops of trees.
I listen to the sound of tress gentle rustling in the wind.
Inspired by bird and forest sounds I being to lightly make my own sounds.
I blur with the environment in this sun touched sit spot,
holding onto the strength of the vines I am kept connected to this earth.
Deeply rooted vines balance me.
Working together we can all be rooted and connected on this planet.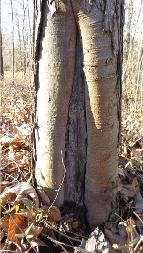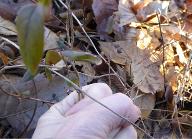 Medwyn's Ma Pose & Walk - Dec. 30, 2016
A cold, bright blue sky day, real winter in my home on Vancouver Island, such beauty. Walking beside the K'ömoks estuary has become a steady part of my spiritual practice as I deepen my relationship with this place. In wintertime the wonder of life on, around and under these waters lures me back to watch and listen to the orchestra of melodies human and beyond echoing across the water and into the mountains.

I sit on a memorial bench recently placed here by the Town of Comox, grateful for the ones whose enjoyment of this view was so great their family chose this spot as their place of memory. The setting sun reflecting on the water changes the light around me as I watch the many shorebirds and gulls feeding from the biodiverse abundance of this rich ecosystem. In the hierarchy of the natural world the gulls are the bullies, chasing the ducks to steal their food away.

I am very aware of the returning light, day by day a minute more. My long winter's dark contemplation and reflection is softening with the rays of the new sun. Gratitude arises in me as I welcome the light, knowing that within me as in the soil beneath my feet, new sprouts are readying themselves for the push upwards into growth.

I breathe in the cool air and when the sun drops behind the mountain bringing shadows across the water and pink clouds in the sky, I slowly rise, offer thanks and return home blessed by the embrace I have received once again from the resilient presence of the beyond human.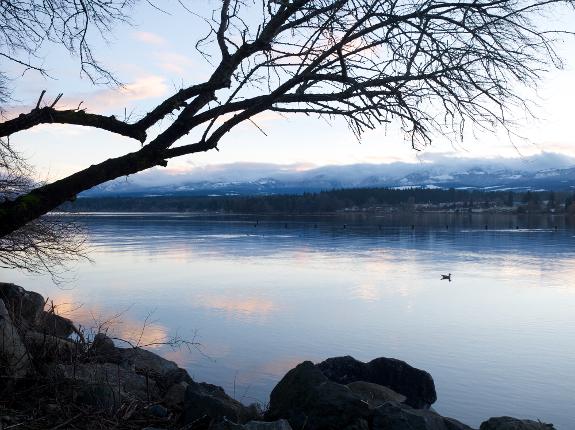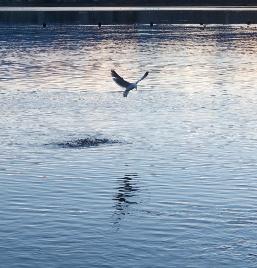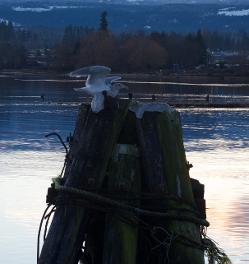 This website is copyright of Gestare Art Collective, 2018. All rights reserved.