Ancestral Journey 4 - Spring Equinox Sun in Aries Monday March 19, 2012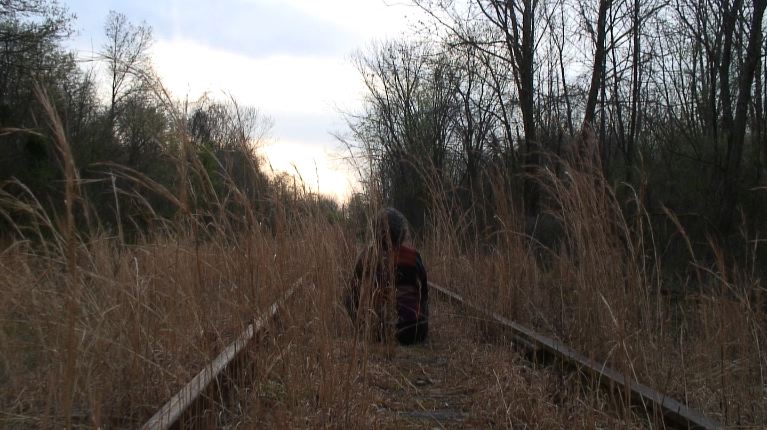 Video still from Barbara's journey

9 minute experimental video
camera, editing, production
sound & sound editing
by Barbara Bickel

Ancestral Journey IV Barbara Bickel

I feel weak upon my return from my journey. My energy was low to begin with being in my bleeding cycle. I had decided to go the edge of town where we often stop for a walk in the forest near an old abandoned railway track. On my bike ride there I was marveling at the spring blossoms and the warmth in the air, a humid warmth here in...
To read more see pdf
Ancestral Journey IV Ingrid Rose

from my bedroom window at varying times before and after sunrise, i've been recording spring's progress since our previous ancestral journey at lunar imbolc (jan 22). probably as a way of consciously marking its progress in my body. even with fresh snow on the mountains and frost on the roof, each day the bird's activities & song get stronger. sun rises earlier and buds swell at twigtips stiff through winter.
for this ritual at the vernal equinox, sounding into rock and slowly moving it up the sidelines of my body, i holdseveral i've been working with since february. sometimes when i set out to connect with ancestral traces, i think i'm cut off from them on the west coast of canada, which is so unlike the land they and i have been rooted in but
as i hold rock, beginning to sound, i connect to inner space of this biomorphic process we call body-- i recognise rock as ultimate slow mover and profound ancestor.
to touch and be touched by rock is to be connected through evolutionary lineage with everything.
to feel the weight of gravity as i move
is to be accompanied.
bird air flight
bird sings wakes up land
bird sings my sap rises
bird rock ancestral murmur
quick light (s)l o w
vernal equinox moves & sounds through matrixial space

the shaman's drum calls me into the mystery
layered sounds of birthing loving grieving dying
sounds of other beings
unearthly sounds
calling in the co-walkers and allies of the other realms
beings whose voices emerge through me and through

the rhythm of the drum
boomb boomb boomb boomb boomb
heartbeat of the ancestors
boom bmb bmb boom bmb bmb vibrating voice

mists of remembering resonating bones

shadows of knowing blood flesh

integrating breath feeling sensing

vibrating voice knowing unknown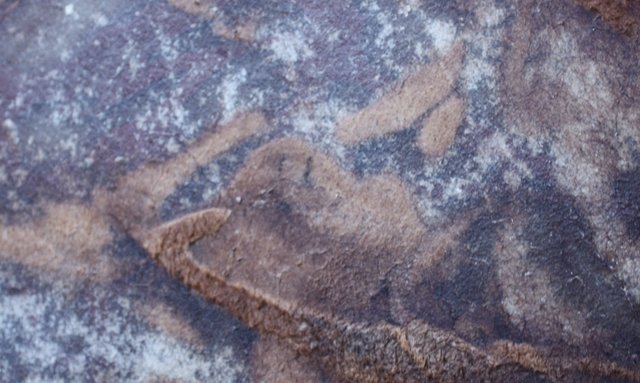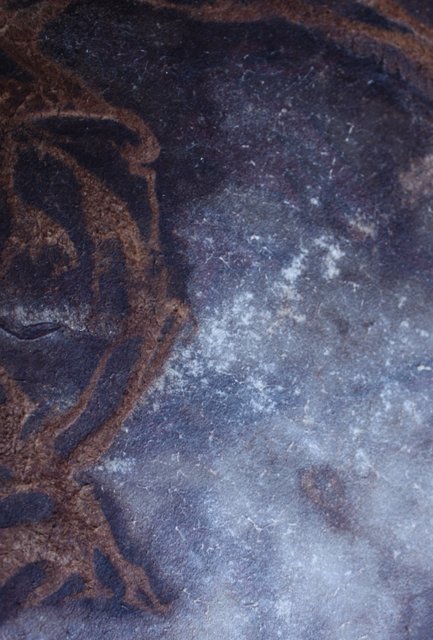 journey on the vernal equinox.mp3
Lying down—candles are lit. I am very ill—it's too hard to do elaborate practices, to even read the Tara or Dakini one. So I lie down. I ask the goddess Eostre (Spring) for her healing, welcoming spring and the promise of new growth in my life. I ask for help in this healing and to find healers/support in this time. I need the simplest of practices right now. I need loving kindness—I like the image on my altar, of hands at rest in a lap. They are peaceful, like a peaceful mind. When I lie down, my symptoms feel like I'm on water, or floating in a boat. I sense this water world of emotions. For healing, I feel green light and air washing over me. I have lots of yawning and release. I need lightness and joy of life. I do a spontaneous chod practice, to work with a demon of my childhood trauma appearing. Unwittingly or not, this was my mother's rage-full legacy. In recent writing, I focused on what I saw as the best of her, but she also gave me this, and I need to cut ties with her/it. Even with all the work of boundaries, I can't continue as her target. This demon wants my life force—needs to feel alive, to feel needed. If she had this, she would feel safe and joyful. I feed her safety and joy.
I need safety and joy. This feeding, this nourishment turns back to myself. The demon is the small child within me who was struck out at and left alone. She wonders how and why it is that someone you love could treat you this way. This child is so trusting, and so loving.
I move into movement, rolling my wrists and ankles, release. I feel peace for a time.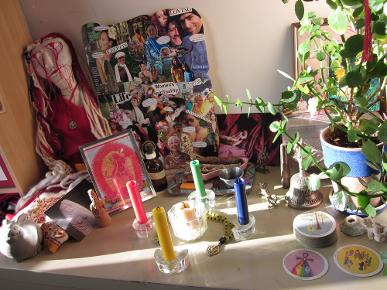 Nané Jordan (2012). Healing Altar. Collage, home made Devi (goddess) doll, image of Vajrayogini, Motherpeace Tarot cards, bell and dorje.
This website is copyright of Gestare Art Collective, 2018. All rights reserved.