2013 Artscape Gibraltar Point

Returning to Toronto Islands in June 2013 my first project was a sand labyrinth created in parallel time with a labyrinth making by my sisters in spirit at Spanish Banks in Burrard Inlet, Vancouver BC.

2012 Artscape Gibraltar Point

A June residency on Toronto Islands offered co-encounters with the youth artists of Toronto's Whippersnapper project, cooperative sun facilitating the creation of a painted canvas labyrinth, daily Nap-ins with the Dream Scroll and photogenic moments at many of the Island's magical places.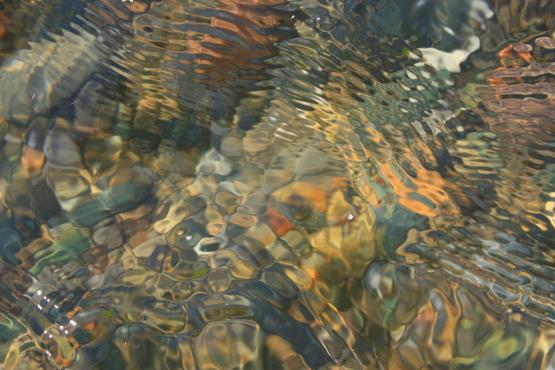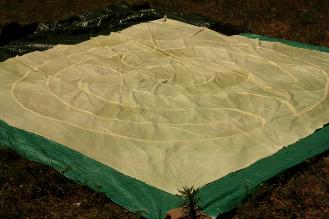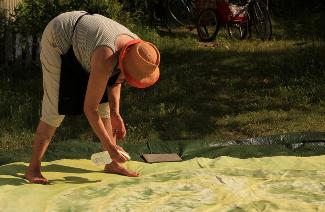 Labyrinth making

"wombspiral"
three-circuit original design by Medwyn
canvas, hand sewn, acrylic wash finish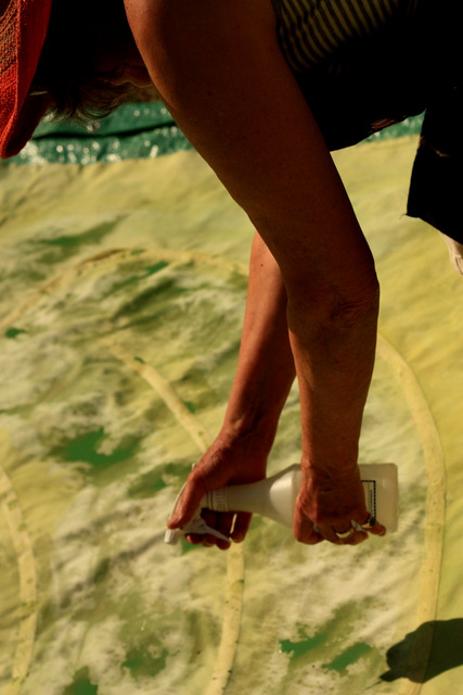 Black Locust in bloom, fragrant surprise at the threshold of the sandy beach.
Garden of St. Andrew's by the Lake, Island Church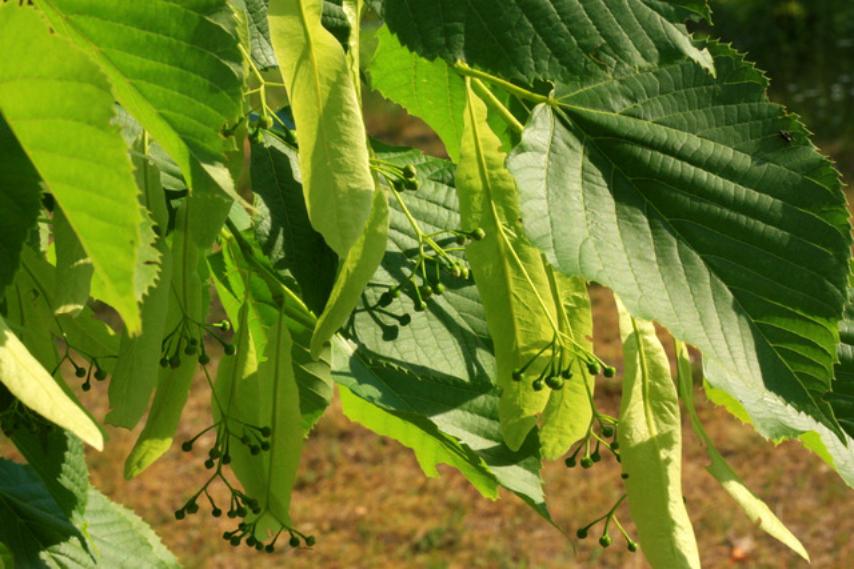 Inspired by the artists I encountered during my Vancouver residency in July 2011, I registered in the Fine Arts program at North Island College in the Fall. A whole new adventure in drawing and mark making ensued.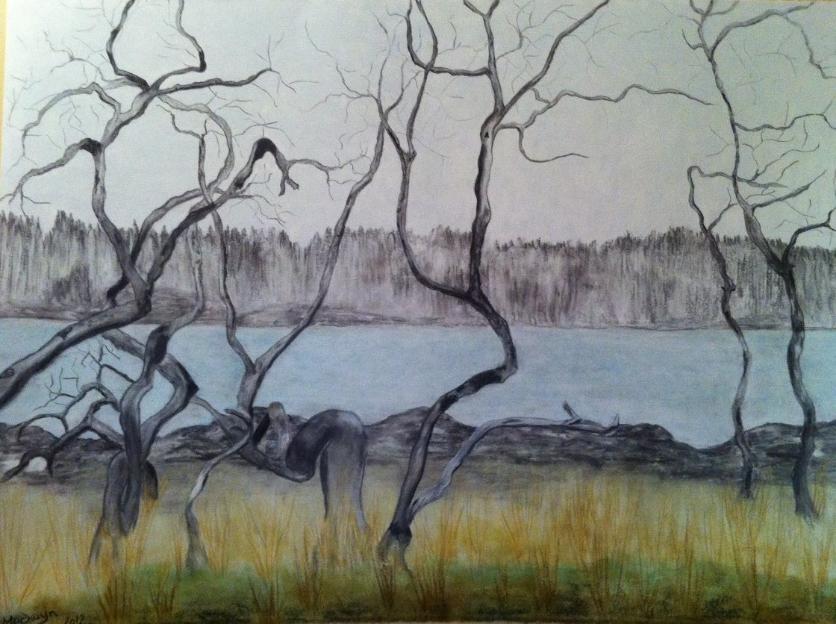 Winter 2012 mid term critique assignment

winter's wait - charcoal, chalk pastel, conté on stonehenge paper

Class assignment winter 2012
trompe l'oeil
graphite, photocopy, india ink, conté charcoal, frottage, collage, still life drawing on stonehenge paper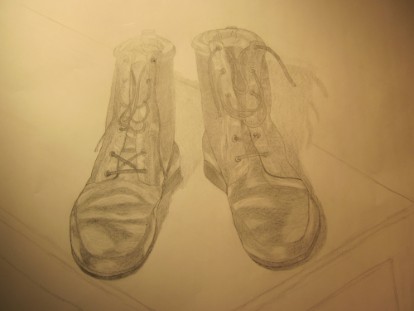 My boots - mid-term assignment Fall 2011 - graphite on paper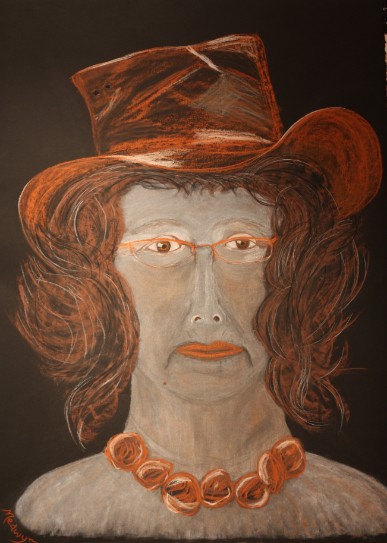 My self portrait - final assignment Fall 2012 - conté on black paper

Vancouver, July 2011 through a different lens.
On the first day of my stay in Vancouver prior to the 2011 Gestare residency I was delighted to see the abundance of urban food growing in every conceivable form. I took the opportunity to wander the city with my camera capturing images of gardens in apartment balconies, sidewalks, road medians, deserted parking lots, empty building lots, community allotments, and coop housing yards. How exciting to see all this food growing in the intensely urban environment of Vancouver. My heart was lifted by this strong evidence of the local food movement in action.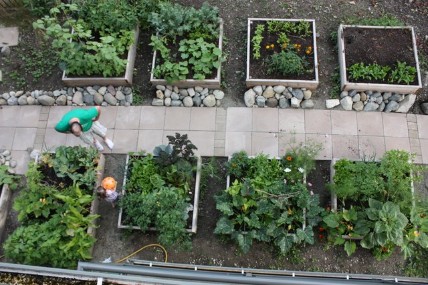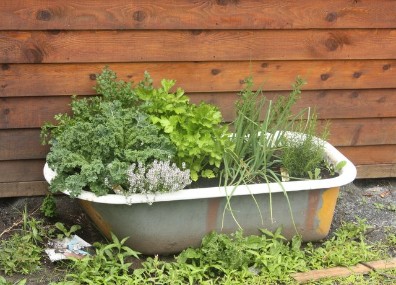 Paloma coop family gardens in raised beds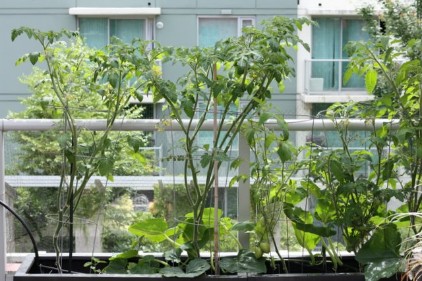 Tomato plants condo balcony Main and Prior Streets

Winter greens, herbs and onions in an empty building lot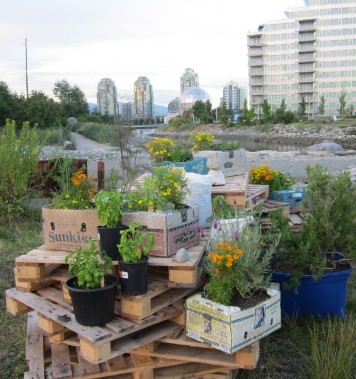 Art installation food in found containers False Creek walkway

Drawing and Painting Paradise - March 2011
I've headed South to the heat and sun of West coast Mexico an artists' retreat at Hacienda Mosaico where I am discovering art making in a new way.
Puerto Vallarta Botanical Gardens a river ravine of exotic abundance in cascades of rich colour filled with butterfly wings and birdsong.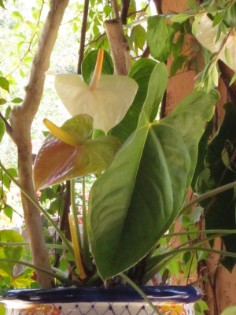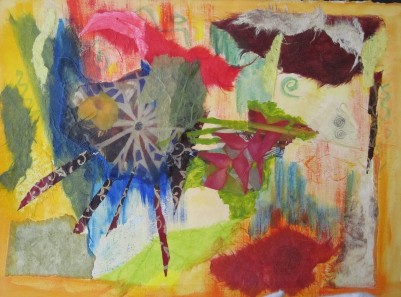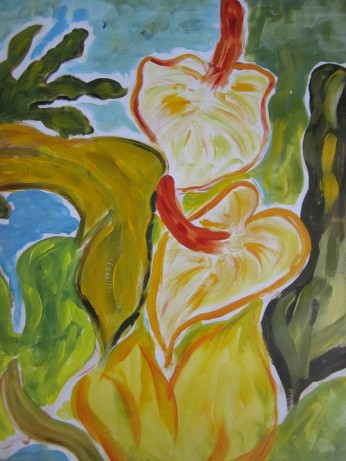 and so we come to the end of five days of intense drawing and painting inspired by the brilliant colours, shapes, textures, and diversity of this rich natural environment.

Co-encounters with the earthly cosmos - Yesterday February 15, 2011, I spent the day on a Northern Gulf Island a two ferry ride from my home. Hornby Island sits out in the Strait of Georgia exposed to the big weather that moves up this channel between mainland BC and Vancouver Island. After a wild ferry ride the deep green of the island embraced me as I made my way to Helliwell Park to visit with the sea lions, eagles, wild winds, rocky shores, ocean swells, a myriad of sea birds and the great ancient lonely old growth forest of ent-like trees whose huge trunks swayed in response to the winter winds.

Two days ago I stood vigil by an injured eagle gasping for breath then witnessed an avian rescue volunteer wrap this huge bird in a towel, lift it like a baby to his chest and place it safely in a cage for transport to the rescue centre - all the while calming the bird with his steady voice and firm hands.
Today I learned that the eagle died its throat blocked by an indigestible mass which it had gorged in its extreme hunger. As the rescue team attempted to remove it the bird died in their arms.

Moved by the intensity of what I have just experienced I seek context within which to describe it finding in the writings of John Heron a pioneer in the field of co-operative inquiry as a basic form of relational and participative spiritual practice, some words that seem to me appropriate descriptions of what I have just experienced as a human being rooted in what is, feeling in communion with and participating in the energy fields of the other beings present in the same moment of experience, holding an awareness of the subtle energies flowing between the beings both human and non-human in our encountering of each other and the living environment we share. The impact of this on me reaches to my deepest source of human being-ness intensifying my awareness of the shared presence with all beings in this Pacific coastal zone where I make my home. Rooted in my environment, grounding to what is, I co-mmunicate with these other beings present in the moment of experience as we co-encounter living and dying. My awareness of the subtle energies flowing between beings both human and non-human brings reverence to my relationship with self, other and the wild environment as the spirits of this earthly cosmos call us all into humble awakening.
Death in the Gulf - On April 20, 2010 the Deepwater Horizon oil rig in the Gulf of Mexico exploded. Thus began the slow death of a coastline and thousands of living beings that made their home there. I arrived at Gibraltar Point in deep distress at this event, angry and grieving as I began my morning practice of encountering the meeting of water and land on a beach littered with discarded plastic household products sourced in the crude oil responsible for the death in the Gulf.

While global leaders at the G20 summit in Toronto failed to reach agreement on climate change, I moved into the matrixial womb of prelife and rebirth engaging the threads of ancestral knowing. The mandala became a cry from the Earth (Mother) through the bleeding wound in the ocean floor as I wit(h)nessed her destruction and co-encountered the suffering and death of my fellow creatures caused by human greed and consumption.

Community Labyrinths a winter's story - opening the labyrinthal wombspace for community in winter's dark and cold offers a different experience of the matrixial realm. Here the threads of connection are from friends and neighbours whose lives are more loosely held in the fabric of co-housing, co-sharing, co-caring. We enter the space with soft intention opening to the wisdom of the m/other, our steps leaving trails of our presence in the absence that follows. A January beach calls forth the ancient architecture in sand where dog and friends leave their marks and add their voices to the chorus of ocean's song. A New Year's day indoor labyrinth of found oyster shells, wood and Douglas Fir bark holds space for us each new year as the labyrinthal womb wit(h)nesses the annual re-birth of ourselves and our community.

Seal Bay Park and Creekside Commons Cohousing, Courtenay, BC, January 2011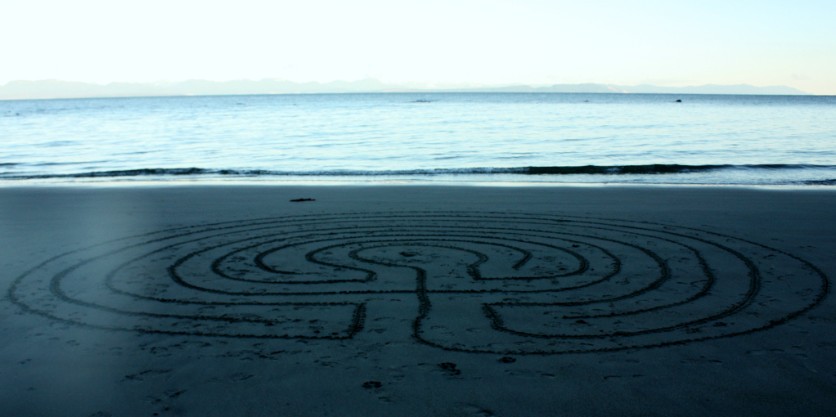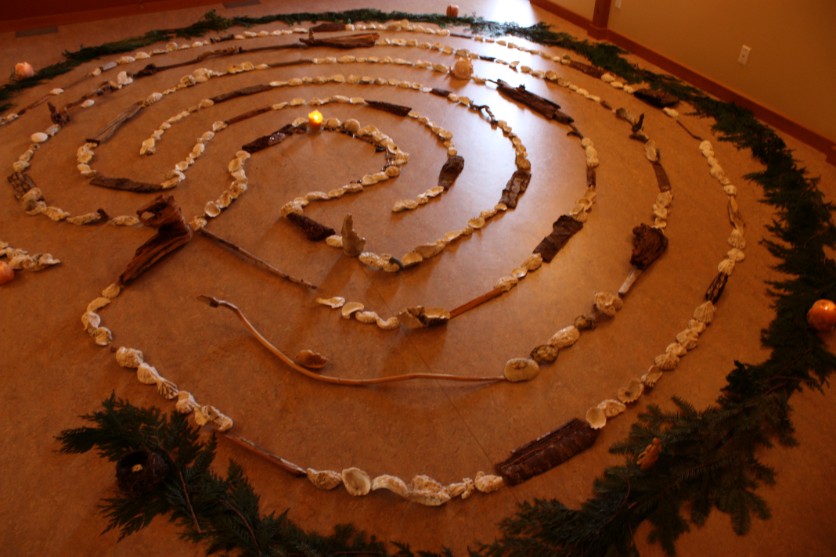 Another eye - mi/ystical rain soaked undergrowth habitat of hummingbird, junko and robin rests in the stillness of winter's damp cape as we await the turning to the light. Courtenay, BC, December 2010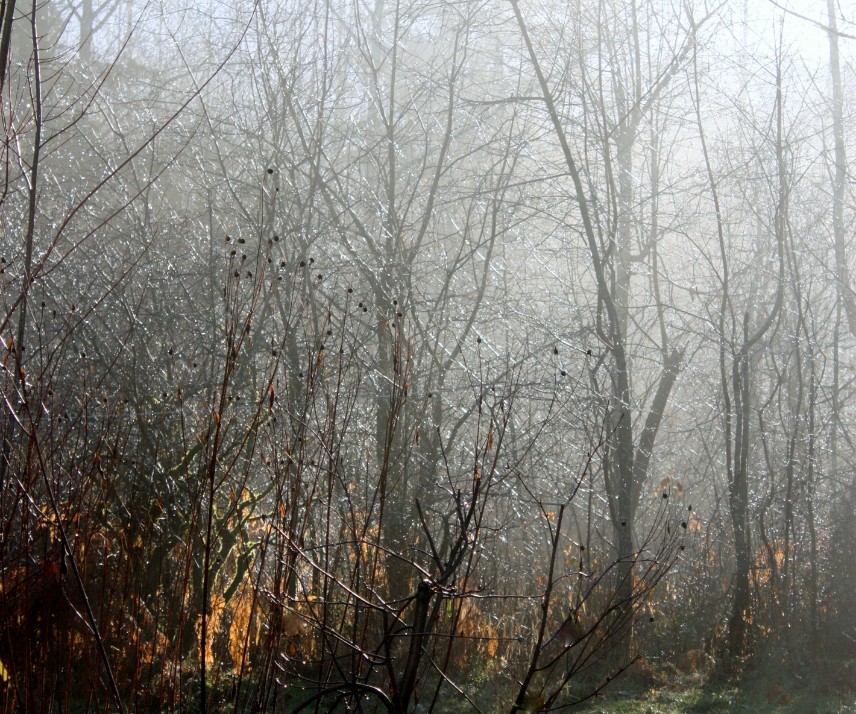 Copyright of Medwyn McConachy, 2018. All rights reserved.